7 BELLOTAS® Royal (64 Months)
With expert skills and adherence to traditional methods, our pata negra ham has been cured for over 64 months and it is only available in a very limited number making it extremely special. Made on a small scale, this luxurious piece of Jamon is meant for people with a true passion for Pata Negra ham from Spain.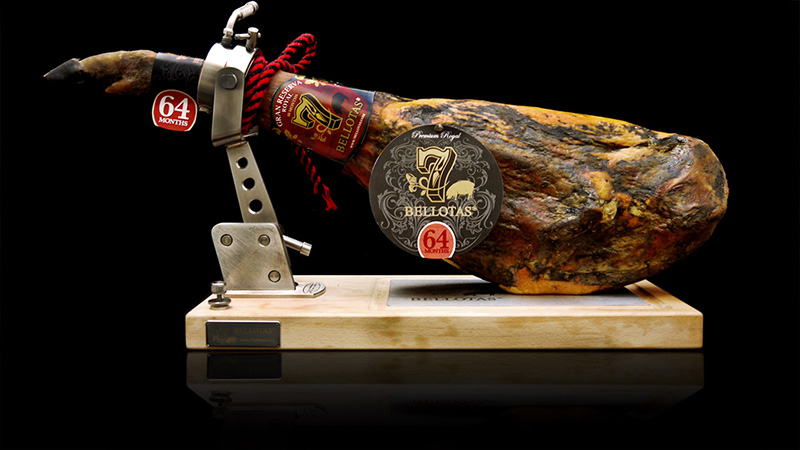 This Royal Selectio iberico ham comes from free-range Iberian pigs who wander around a rich, clean, wide pasture with acorn and plant-based food sources.
 They were fed exclusively on acorns during two years of Montanera.
NUTRITIONAL Information
| Nutritional information | Per 100g |
| --- | --- |
| Energetic value | 347 Kcal/1438 Kj |
| Fats | 24 g |
| Monounsaturated fats | 15,8 g |
| Carbohydrates | 0,7 g |
| Sugars | 0 g |
| Proteins | 32 g |
| Salt | 4,9 g |

7 Bellotas Royal is the result of the selection of the year Añada. It is simply the most richly flavored Pata Negra ham from Spain! Prized for its unique and truly incredible taste, you'll immediately know how much dedication, knowledge, expertise, and passion this piece of gourmet meat has seen.